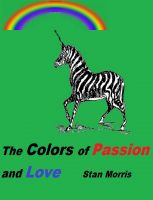 Book Description/Synopsis:
I never really believed in the myth that the women in my family could tell which colors of a man's aura were joined to his emotions until Magesty Yoll, Master of Arete, walked into the large ball room in my mother's palace and forever changed my life. I could see the colors of his aura, of course. All the women in the royal line can see the auras of men who are near us."
When Princess Elanoria Romand meets Magesty Yoll, she knows her life is about to change. What she doesn't know is how much. A brutal betrayal is followed by a flight into exile and the discovery of a strange horse. Politics intrudes into romance, and a green valley becomes a new home.
Mindy's Review:
*I received this book free from the author in exchange for an honest review*
When I first received this book and read the summary I was very excited to start reading.
I found the story to have entirely too much detail regarding the land and how the countries were laid out, but not enough detail into the characters until the end of the story.
With that being said, I love the relationship between Elly and Magesty. Magesty is always taking care of Elly; she never has to second guess his agenda or his love for her. The love and passion that they share is magical. Elly can always tell how the Magesty feels (good or bad) as she can see and tell the many colors of his aura. They really get to know each other under some stressful circumstances and in a short period of time with people always around.
Prince Jode is Elly's protective brother and is always close by making sure the Princess is taken care of. I love the sibling love that is showed between the two. Jode is very dedicated to do what is right even if it means standing and fighting with Magesty Yoll Master of Arete to stop the feud between the families.
I feel just as I was really getting into the storyline and the characters it was over. I wish I could have read more about the characters as things settled down to normal routine living.
Overall this story is very intriguing and I would recommend this to anyone that loves a good magical romance.
My Favorite Character: Daina by far. She is Elly's best friend and the bickering and sisterly love they have for each other is incredible.
My Favorite Moment: The garden on the palace grounds. Elly is very straight forward with the Magesty of Arete with what she desires.
Overall, I give this 4 stars!
You can find The Color of Passion and Love by Stan Morris on Amazon.